Roll over image to zoom in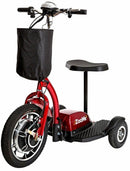 Description
3-Wheeled Mobility Scooter
NEW ZooMe3 is a modern recreational electric scooter providing personal transportation for everyone! The comfortable extra-wide seat is removable, so you can stand up or sit down while riding it making it great for recreational or mobility use. The ZooMe 3 comes with a powerful 350-watt brushless hub motor providing a top speed of 15 mph, and a maximum range of 17 miles on a full charge.

Product Key Features
Powerful hub driven motor providing speeds up to 15 mph
Folding tiller for easy transportation in a vehicle or storage
Includes 2 keys
Hand brake with locking mechanism for parking on inclines
Forward and reverse controls are easily changed with the switch of a button
Fast and slow speed settings easily changed with the switch of a button
Front basket for storage
Pneumatic tires for the smoothest ride possible
Extra bright LED headlight
Anti-tip wheel
Product Description:
Brand Drive

MPN ZOOME3

Ean 50822383563515, 0822383563510

GTIN 50822383563515, 0822383563510, 691199E11

UPC 0822383563510

Model ZOOME3
Dimensions
Item Length 41in.

Item Height 28.5in

Item Width 26""

Weight 97lbs.

Height 28.5in

Length 41in
This is an excellent device for patients with limited mobility. It's peak performance is on smoothly paved surfaces. It is very maneuverable, very good in tight spaces and the learning curve is not steep at all. it handled gradients well, it was simple to assemble, when folded it fit easier in my limited space trunk than other much over hyped walkers advertised being able to be folded.
The transportability was one of its best features. it's powerful enough for most gradients and just takes some getting used to as is any new device.
I haven't tested the limits of its battery life but have been very spoilt by the comfort of having a fully charged spare under the seat. It is surprisingly light weight and convenient.
It performs very creditably on less even surfaces like pavers and sidewalks, but isnt the smoothest ride as is to be expected as it doesnt come with shock absorbers, but i didnt see it advertised for that so I'm not disappointed.
Batteries last for at least four hours each and I have to it came with two steering is perfect I weigh 207 pounds and it holds me with no problem I've even had a small child sit on my lap I went all day through an amusement park and only had to change the battery toward the end of the day I went all through the Columbus zoo and didn't have to change the battery till the end of the day everywhere I go people are amazed how strong lightweight and easy to use and one thing I really love is it does it beep when you back up and I know that's supposedly a safety feature but it's annoying and I can turn and look while I back up I added a cup holder the basket holds quite a bit the seat is full-size and it will hold a bag on the back of it where you put your feet it is perfect the handlebars adjustable I couldn't be happier with it it has a Belle in case you're coming up on someone so they know that you're behind on because it's quiet and it also has a meter on the front that you can check to see how much battery you have left