Roll over image to zoom in





Description
10x10 Pop UP Canopy Tent With Sides
Tents, a common sight in our daily lives, have a wide range of applications, including parking, weddings, camping, and parties. If you need a portable and functional tent, consider this 3 x 3m Three Sides Waterproof Tent! This tent has plenty of space to accommodate a large group. Its high-quality PE cloth top and iron tubes, combined with delicate craftsmanship, ensure good structure and toughness. This assembly tent is lightweight and portable, with fully equipped accessories. How do you feel about this offer? When using the tent on windy or rainy days, please secure the ropes and ground nails.
Features:
1. An assembled tent, consisting of necessary accessories
2. High-class PE cloth top and iron tubes, smart workmanship and reasonable design
3. With outstanding waterproof performance, can be used outdoors
4. Large space for accommodating many people and stuffs
5. It is suitable for weddings, camping, parking and other parties
6. Easy to assemble
7. Spiral interface between the tubes makes overall frame more stable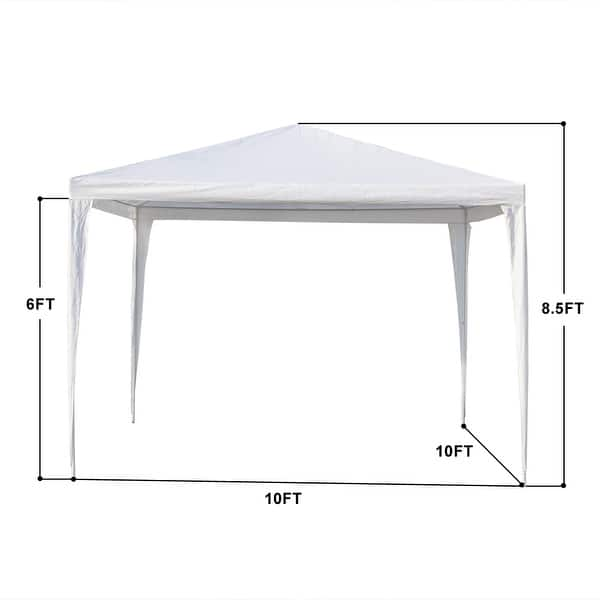 Specifications:
1. Material: Iron Tube & PE Cloth
2. Color: White
3. Tube: Φ24/18/0.45/0.45 mm
4. Top Cloth Material: 90G/M2 PE
5. Dimensions: (10 x 10 x 8.5)" / (300 x 300 x 260)cm (L x W x H)
6. Weight: 17.63 lbs / 8 kg
7. Waterproof: Yes
8. Tent Structure: Single Tent
9. Height of Side: 79" / 200cm
10. Height of Top: 100.39" / 255cm
11. Suitable for: Household, Wedding, Party, Parking Shed
Package Includes:
1 x Tent
1 x User's Manual
10x10 Pop Up Canopy Tent With Sides
I am happy that I purchased this tent.. came on right time. This tent can hold 2 big table with chairs and a small table with 4 chairs. I had a concert this tent was a wonder choice because we selling food outside. It held everything we needed, form tables, chairs, countless drinks, fan, and we added a light in the middle because the concert was in the evening hours... ut was perrrrrrrrfect... no complaints at all. Just add some weight to hold it down you good to go.. good for parks, cook out, dinner.. etc...
10x10 Pop Up Canopy Tent With Sides
We've seen hundreds of different shade canopies at the beach or on the river and none have been as good as this one. After the first time we set it up (when it took a few minutes to read the directions) it literally never took us more then 3 minutes to set up or take down. We used it every day on the beach during a month long holiday, during gusty winds and rainy days, as well as hours of sun and it never so much as wobbled. Absolutely worth every penny.
10x10 Pop Up Canopy Tent With Sides
I'm really happy with this purchase. It really can be set up by one person! I had a crafts fair for my small business this weekend, and two helpers backed out. This canopy was up in seconds. It's sturdy, and collapses and expands easily and smoothly. The carrying case is well made, easy to load and remove and has sturdy wheels.
10x10 Pop Up Canopy Tent With Sides
Bought this for outdoor events with our local nonprofit. It is a nice size that fit more than 1 table and was easy to assemble. Didn't need to stake it in the ground as the weather was nice. Great to have the side panels if needed as well. Metal poles and clips looked like good quality. Will use it for many more events and great to have something like this handy!
10x10 Pop Up Canopy Tent With Sides
I absolutely love my 10x10 tent. It wA easy to assemble and was nice and sturdy, considering that I didn't apply the weights on the legs and it was windy the night I used it. Love the color red on the tent. Helped my tent stand out from the other tents that were there. Came with a lot of accessories to secure the tent on grass and concrete. I also liked that the bag had wheels on them