Roll over image to zoom in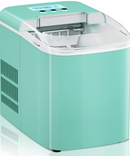 Description
26 lbs Countertop LCD Display Ice Maker with Ice Scoop
Key Elements
7-Minute Efficient Ice Making: The portable ice maker cools quickly and can produce up to 26 pounds of ice cubes in the shape of bullets every 24 hours thanks to its high-efficiency compressor and R134a refrigerant. In a single cycle, the electric ice maker produces 9 clean, eatable cubes of ice in 7 to 8 minutes.

The smart ice maker easily adjusts the size of the ice cubes to suit all of your needs, including those for iced meals, smoothies, beverages, emergency use, etc. The sophisticated LCD display, useful control panel status indicators, and adjustment buttons all function flawlessly and are simple to use.

The countertop ice maker has a self-cleaning capability that primarily makes regular maintenance tasks easier. It also has superior material. furthermore has a smooth surface for simple cleaning. The ice maker is secure and non-toxic since it is made of food-grade, corrosion-resistant ABS and PP material.

Lightweight and Portable Ice Machine: The ice maker saves counter space due to its light weight and small size. You can carry the ice cube maker anywhere—parties, gatherings, RVs, bars, and so forth—and it will be ready for you to have whatever icy fun you desire thanks to its portability, flexibility, and ease of storage.
The ETL-certified electric ice maker's user-friendly design gives you everything you need for your ice adventures, including an ice scoop and a detachable ice basket. In addition, the large transparent full-view glass allows you to directly observe the ice-making process. Please use all the ice in the basket or store it in the refrigerator to prevent it from melting so you are able to relish it at its freshest.
This countertop ice maker is ideal for your house, events, RVs, pubs, and other settings.

With the use of a high-efficiency, quiet compressor, the ice maker produces 26 pounds of bullet-shaped ice cubes every 24 hours with little noise and little power use. It is made of non-toxic, odourless, ABS and PP materials that are safe and have a longer lifespan. It is important to note that the ice maker has a self-cleaning mechanism, which primarily makes everyday maintenance and cleaning tasks easier. The alternative bullet form ice size also accommodates your various ice needs. Bring the portable ice maker home to expand your options and improve your quality of life!


Produce up to 26 pounds of bullet-shaped ice cubes every 24 hours with the help of a high efficiency compressor and R134a refrigerant.
it takes 7 to 8 minutes to produce 9 ice cubes during one cycle.
Bullets with variable shapes ice size (small/large), to accommodate your various needs.
Self-cleaning capability, easy to keep clean and maintain
Food-grade ABS and PP are non-toxic, odourless, and secure materials.
Excellent space saver, portable and compact design.
A large glass viewing window makes the ice-making process visible, and an LCD display indicates when the ice is full and dehydrated.
Easy to use and appropriate for people of all ages
An excellent option for events, get-togethers, barbecues, RVs, pubs, kitchens, restaurants, etc.
Included are an ice scoop and a detachable ice basket.
safer with ETL and UL certification
Specifications
| | |
| --- | --- |
| Color | Black/red/stain gray/light green |
| Main material | ABS, PP |
| Overall dimension | 14.5" x 10" x 12" (L x W x H) |
| Net weight | 21 lbs |
| Refrigerant | R134a |
| Productivity | 26 lbs/ 24h |
| Ice-making cycle | 7-8 minutes |
| Ice storage capacity | 1.3 lbs |
| Water tank capacity | 2.1 L |
| Voltage | AC 110V-120V |
| Frequency | 60 HZ |
| Power | 120 W |
| Certification | ETL, UL |
I have only used the large setting for my cubes and I love it. I have it next to my freezer and when the basket is full I dump it in my Ice hold in the freezer. It is not super quiet but it is not disturbing.....And when filled with water it makes about 5 or 6 baskets full before it needs to be filled up. It was way cheaper that getting the icemaker in my Refrigerator fixed. When I have guests I move it to the bar area. I have only had it a few weeks but works great. I do drain and dry it when not in use to keep it clean and free of slime as per the directions. I would buy again
So far so good. This little ice maker does a nice job of cranking out the ice. It has a large water reservoir to keep the ice coming. Especially if your family uses a ton of ice like mine does.
I'm very shocked. It makes way to much ice. My son has a similar ice maker and it barely keeps up with just him. I bought this because my ice maker in the fridge broke. I didnt have high expectations, buy boy was I wrong. I have to turn this off for 12 to 16 hours a day. And still have too much ice. I dump the ice into the fridges ice bucket and use and ice straight from this machine. Finally a product that does what it's supposed to do and then some!
Keep in mind when you pull ice out of your kitchen freezer that has been in there for several hours it is around 0 degrees vs. the 27 degrees right out of the countertop ice maker. So, ice from your freezer is going to last a lot longer in a drink than ice out of this countertop ice maker. So, that may not be ideal for some if you are having a drink outside on a hot day and not using an insulated cup. For best results take the ice out of the countertop ice maker and put it in a gallon ziplock bag and place it in the freezer for a little while so it will get down to the 0 degrees. That is not necessary though. The ice that comes right out of the machine is plenty cold enough for drinking beverages indoors. If you want to use the ice outdoors just place the ice in an insulated cup.
It doesn't take up a lot of countertop space so we are able to leave it out and it matches our stainless steel fridge.
It comes with a nice ice scoop which is great for parties.
This ice maker keeps dropping ice every 8 minutes.
The cord is very long so it doesn't have to be right up against the outlet.