Roll over image to zoom in


Description
Large Heavy Duty Dog Kennel W/ Wheels
Do you require a large, heavy-duty crate for your dog? This Premium Dog Crate is built to be strong and durable, while also providing maximum safety, security, and comfort for your pet. It has two large doors that are easy to open, close, and lock securely with dual latches. This way, you can rest assured that your child is safe at all times.
EASY TO CLEAN
This large dog crate is equipped with a large removable sliding tray that is located at the bottom of the crate that allows for easy cleaning after your buddy finishes his business. Simply slide the tray outwards, remove the waste and that's it.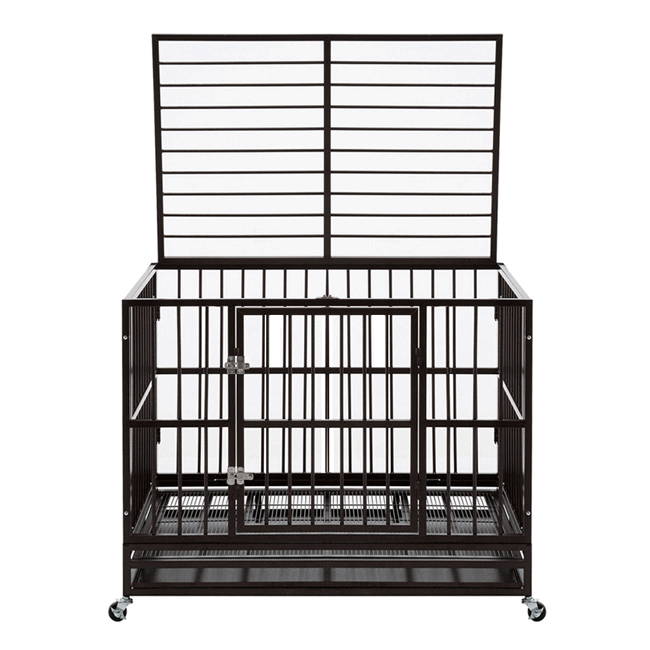 PERFECT HOME
This premium dog crate is suitable for dogs that are less than 80 kg or 176 lbs and has wheels with foot brakes so you can move it around your home to that perfect spot before your dog gets in and enjoys his comfortable stay.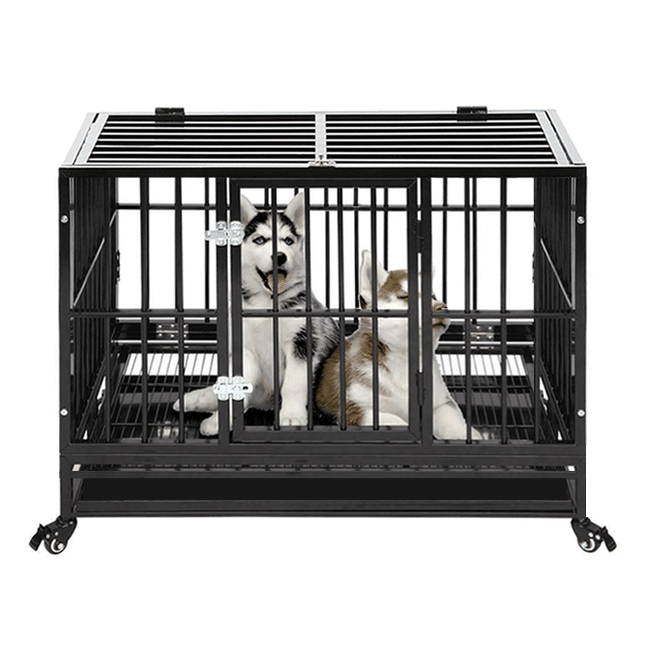 ROBUST DESIGN
Unlike traditional crates, this one is extremely durable and will not only last for years to come, but will also prevent your dog from damaging the crate. It features dual locks that keep the door securely shut
Specification:
Pet Capacity:
≤176 lbs

Material:

Steel Tube

No Of Doors:
2
Spacing:


2.4"

Prod Weight:
37":

 

52.5 lbs,

 

47":

 

83.2 lbs, 63":165.0 lbs
Tray:
Slidable
Dimensions:
37"
Door:

14.2" (W) x 19.5" (H)

Tray:

23.4" (W) x 34.3" (H)

Overall:

24.4" (W) x 26.0" (H) x 36.2" (L)

47"
Door:

18.9" (W) x 27.4" (H)

Tray:

31.5" (W) x 46.9" (L)

Overall:

31.4" (W) x 35.0" (H) x 46.4" (L)
63"

Door:

18.5" (W) x 24.0" (H)

Overall:

37.0" (W) x 46.5" (H) x 63.4" (L)
Includes:
1 x Heavy Duty Dog Crate
1 x User Manual
I bought four more kennels, but she refused to use them and fled. She hasn't figured out how to open this one, which is made of solid metal. She can bend thin metal, but she can't do much with this kennel. It's well worth the money. My dog suffers from separation anxiety, and as you can see from the photos, she destroys everything. However, owing to this escape-proof cage, she is no longer able to do so.
This a great product if you have a disobedient dog that tears things up while you are gone and tears apart those fifty dollar cages still getting out of them.
This kennel is really sturdy and well made. Only thing I don't like is the plastic tray on the bottom doesn't support a big dog and we've had to replace it twice. The base of the kennel is about 3-4?? off the floor. For reference our dog is a Bull mastiff and weighs about 90lbs. The kennel size is perfect for her. The kennel we bought was lost in shipping and the company was amazing to work with. They sent us another one, I would definitely buy from them again!!
This cage is enormous! It's not for my grandchild at all! He insisted on entering first, and our dog simply followed. It's well-made, durable, and quite simple to put together. I like that it's on wheels, especially because it's so enormous.
The job is done by the double-welded steel. It's been over a year and it's still in perfect condition!!